Get access to our world class nanomaterial R&D lab
Vsparticle Contract Research
Globally unique technology, tools & knowledge
With our dedicated lab, material scientists and engineers we provide you access to the latest nanoparticle synthesis technology and extensive material science knowledge. Together with us you can develop and optimize new active particle compositions, study properties driven by quantum mechanics and validate nanomaterials for new applications.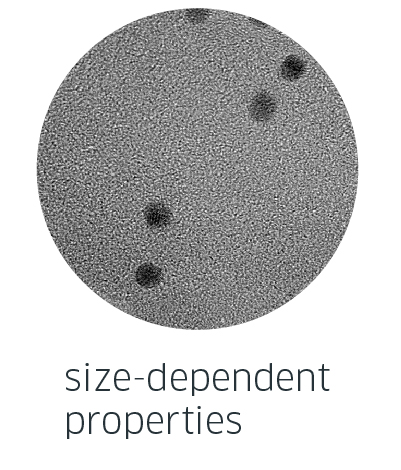 Model Catalyst development - Debye Institute
To enable fundamental reseach into nanoparticle behaviour in catalysis, VSPARTICLE developed a new deposition technology for in-situ TEM sample preparation, first used by the University of Utrecht, Debye Institute for Nanomaterials Science. University of Utrecht is working on model catalyst development for industrial applications. For the Debye Institute for Nanomaterials Science, VSPARTICLE developed and tested several new material compositions, with unique properties.
Sensor development - TU Delft
Together with the Department of Microelectronics at the Delft University of Technology we are performing research on metal oxide gas sensor development. Our aerosol technology makes it possible to deposit nanoporous layers consisting of sub 15 nm particles. The nanoporous structure of the material can enhance the properties for gas sensing applications due to its high surface to volume ratio. We are now testing the sensitivity, selectivity and stability of a nanoporous thin film printed with our technology. We enable a process to deposit porous material precisely and locally removing the need for pre- or post-processing to pattern the layers, reducing the complexity to manufacture the sensors.
Printed electronics - Delft Circuits
Our technology development allows us to perform local depositon of nanoparticles on a wide variety of substrates. For Delft Circuits, a start-up providing quantum hardware solutions, we are looking into the possibilities to develop a new manufacturing process based on this technology. We reduced our spot size down to 300 μm and can print any kind of pattern with conductive material. We can print in 3D and with a deposition speed of 1*10-3 mm3/s. We have combined 3D printing techniques and nanostructured materials, resulting in a powerful tool to drive future innovations such as that of Delft Circuits.
Testimonial
The sample preparation is applicable for a wide range of materials as well as metal nanoparticle sizes. This ensures that valuable time on TEM machines is well used. In addition, tuning particle size with settings prior to deposition allows us to study the size dependency of the metal nanoparticles for a given catalytic reaction. In total, it takes less than an hour to make a sample and the same MEMS devices can be used.

Charlotte Vogt, from Debye Institute
Discover and optimize new catalyst compositions, including size selected particles and sample preparation
Make and handle unique inorganic nano-alloys, semiconductor and doped materials
Understand aerosol based particle generation and deposition on flat surfaces or in porous structures/supports
Study material properties at the nanoscale, within Operando/TEM characterisation tools
Validate new materials for the use in medical applications, including nanotoxicology studies
How can we help you accelerate your research and development?
Contact us for more information and to schedule an orientational meeting.