Sample preparation
at the push of a button
Automated sample preparation
Thanks to new and improved instruments, the scientific community is now able to investigate catalytic materials in "real life" conditions. In-situ TEM and spectroscopic methods are more and more used for characterizing nanoscale phenomena. With VSPARTICLE Sample Preparation tools researchers can make the samples they need. Easy, fast, reproducable and safe.
Dispersed particles, Porous layers, Coated filters, Lines
With VSPARTICLE Sample Preparation tools pure nanoparticles are generated and deposited on any kind of substrate. You can make a sample with dispersed particles, a nanoporous layer, coated filters or lines of particles with great material flexibility. You can use any kind of (semi)conductive source material: pure, alloys, compacted alloys, mixed materials, oxides and other combinations.
VSPARTICLE & Wilson Smith
Smith Solar Lab works on electrochemistry and electrocatalysis to allow the ability to convert abundant raw materials such as water and CO2, into highly valuable chemicals and fuels. The lab researches the electrocatalytic water oxidation reaction and CO2 reduction reaction by exploring new techniques to characterize this process in-situ.
"The VSPARTICLE Sample preparation tools enable you to combine different materials together on any substrate, changing their functionalities. At the Smith Solar Lab, we have used VSPARTICLE's machine in different ways, because you can make nanoparticles of different sizes and compositions. They have different optical properties, so you can actually tune which part of the solar light is absorbed by pushing a button. Which is something we have not been able to find in any other technology"
Wilson Smith - Smith Solar Lab
Electrocatalysis development
quick sample preparation
The VSPARTICLE Sample Preparation tools are ideal for fundamental spectroscopy studies, as it enables researchers to prepare samples with clean, well-defined catalytic particles. It is ideal to combine with operando analysis in for example electrocatalysis development.
Material versatility is key to prepare model catalyst samples, VSPARTICLE's technology enables you to change the material easy and fast thanks to the use of electrodes. This allows the creation of particles of bi-metals, nano-alloys or materials that are immiscible in bulk state. Source material is supplied in the form of electrodes. The electrodes work with a click system, making it easy and quick to switch materials.
browse the periodic table Contact us
User friendly, safe and quick
The spark ablation process used inside the devices is a purely physical process that only requires electricity, a carrier gas and electrode material to produce clean nanoparticles. No additional chemicals are required for the production or to stabilize the particles in the aerosol. The produced nanoparticles can be directly incorporated into the next process step or applied in a product by, for example, impaction, electrostatic precipitation or filtering. This way the unique physical properties of the nanoparticles are directly available in the product. The carrier gas can simply be recirculated, minimizing the environmental impact of the process.
The different deposition tools can deposit on every kind of substrate of 10X10mm (flat surface) and 25X25mm (filters). Together with our customers, we have already prepared samples on different substrates for a wide range of applications ensuring the holder's flexibility. Deposition can be done by diffusion, impaction and filtration units.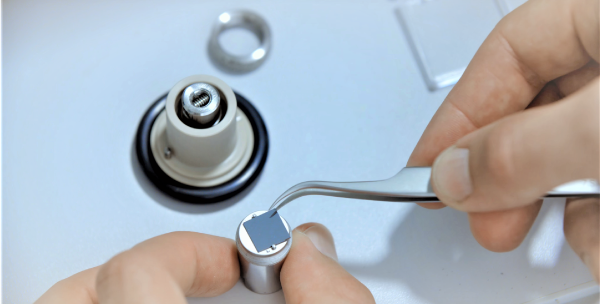 From the lab & our customers
Technical specifications
Power
110-240 V AC
Dimensions
Casing ca. 47x34x15 cm - Reactor added height ca. 10 cm
Weight
19 kg
Gas inlet/outlet
10 mm tubes (with Swagelok connectors)
Display
OLED
Controls
Manual operation & remote control via RS232
Operating window
Flow rate
1-30 L/min
Gas
Supported: Ar or N2 (recommended purity 5.0)
Unsupported: He, Ne, Xe, Kr
Contact VSPARTICLE for use of reactive gases such as air, H2.
Electrode material
Comes with Cu electrodes.
Various other metals (e.g. Ag, Au, Pt, W, Ni), semiconductors and carbon are possible.
Primary particle size
1 atom to 20 nm
Ablation rate
~0.01-100 mg/h (material dependent)
Typical particle concentration
108-1011 cm-3
The most used combinations between accessory, material and substrate for model catalyst and in-situ TEM:
Diffusion: TEM grids, in-situ TEM/MEMS, SiOx
Applications: In-situ TEM catalyst research, materials science, ...
Materials: Metals, Metal oxides, Alloys, Semiconductors, Carbon
Max sample size: 1 cm2
Impaction: TEM grids, in-situ TEM/MEMS, SiOx
Applications: catalysis, in-situ TEM, sensors, batteries
Materials: Metals, Metal oxides, Alloys, Semiconductors, Carbon
Max functionalized surface area: around 1 mm2
Filtration: Filters, active carbon membranes, nanospun wires
Applications: catalysis, batteries, filter testing
Materials: Metals, Metal oxides, Alloys, Semiconductors, Carbon
Max filter diameter: 47 mm
Tune gas flow to control particle size (0-20 nm)
Immobilize nanoparticles on a controlled substrate at the push of a button
Mix any conductive and semi-conductive material
Sample preparation time reduced to <1 hour
No chemicals needed thanks to spark ablation technology
Find recommended settings on the VSPARTICLE materials database free tool
Store your data on the VSP database and share them with your collaborators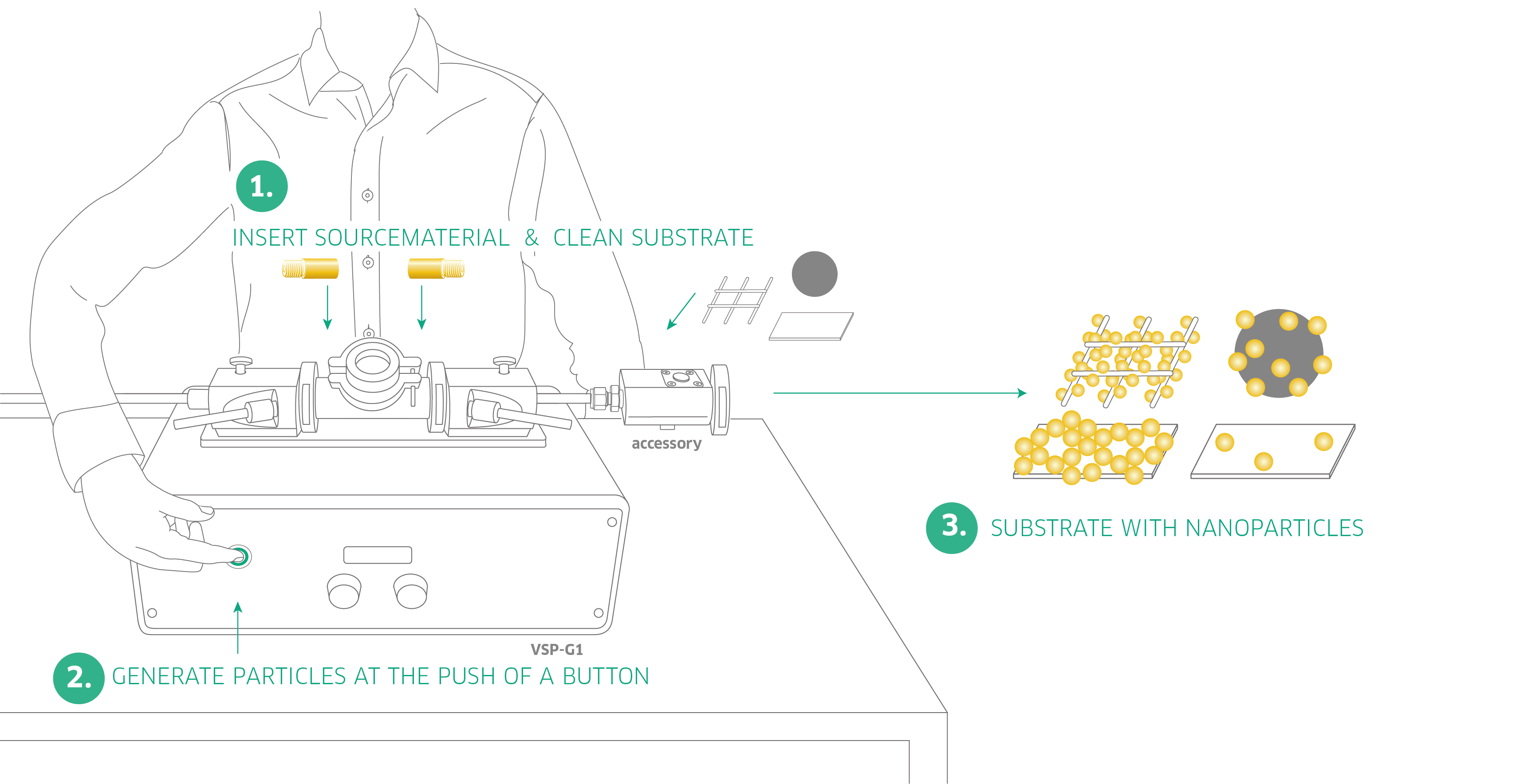 What materials can I use?
You can use any semi-conductive and conductive materials. The material is used in the system in de form of electrodes. By adding air to the gasflow, oxides can be made. Learn more about compatible materials here. Contact us to find out which materials we have in stock.
What are the sizes that I can make?
The output of the system is 0-20nm particles. By changing the settings, you can tune the size distribution to create particles tailor-made for your application.
Can I make monodisperse particles?
Yes, monodisperse options and samples are available upon request.
What substrates can I deposit them on?
It is possible to deposit on any substrate. Some examples of substrates are: TEM grids, in-situ TEM/MEMS, SiOx, filters, active carbon membranes, nanospun wires.
How long does it take to make a sample?
Sample preparation typically takes less than an hour from getting a fresh substrate to storing your prepared sample.
As a society, we are still relying heavily on conventional fuels. One of the side-effects of using these fuels is the production of the greenhouse gas carbon dioxide or CO2. A solution to this problem could be.. read more
A collaborative effort between University of Delaware research groups leveraged tungsten-carbide nanoparticles to create a more durable, less expensive fuel cell.. read more
Sample preparation for in-situ (T)EM characterisation and measurements is still difficult and often time consuming, but now there are some technological advancements which could drastically speed up this process.. read more
The Model Catalyst Sampler has bench-top dimensions and is designed to fit most lab-tables and fume hoods. If you wish to set it up in your own lab, you can opt for either buying or leasing the nanoparticle generator. It is also possible to work in our lab or let vsparticle provide you with some test samples. Just contact our team or complete the contact form to see which option fits your situation and research best.