Katharina Weber's Journey in Nanoparticle Research and Development at VSPARTICLE
Katharina talks about her job
My name is Katharina Weber. I am from Germany and live here in the Netherlands for 6 years. Ever since I was a child I have been interested in sciences in general. In school I discovered that physics is the one I enjoy most.
I studied physics at Technical University in Dresden and continued afterwards to earn my PhD in Physics. I enjoyed the fundamental research aspect of my PhD studies, to understand and studying a specific topic.
After my PhD I looked for a job where I can continue to work in research and development. Besides that I wanted to work in a company where I can contribute to an immediate application that is useful to society. So in 2018 I joined VSParticle as research scientist.
The part of my job I like most is problem solving - to find out what the problem is,
what is the actual goal that we need to achieve and what are the solutions.
I love to work in the lab, going into the prototyping phase and try out new things. I always get excited when something actually works!
I like working in VSP because of the flat hierarchy where everyone is approachable. The entire company fits around the lunch table and our desks are all in the same office area.
This creates a nice work atmosphere with short routes and direct communication amongst colleagues from all departments which is very valuable.
I am part of the Research and Development team. I am looking for the best ways to generate nanoparticles, transport nanoparticles and print nanoparticles onto a substrate.
That starts with listening to our customers and understanding what they need. From there we develop the tools and techniques to fulfil their needs. In the past years I worked on the printer technology and it is very rewarding to see that this effort is now turned into a product - the P1 NanoPrinter - that researchers can buy and use.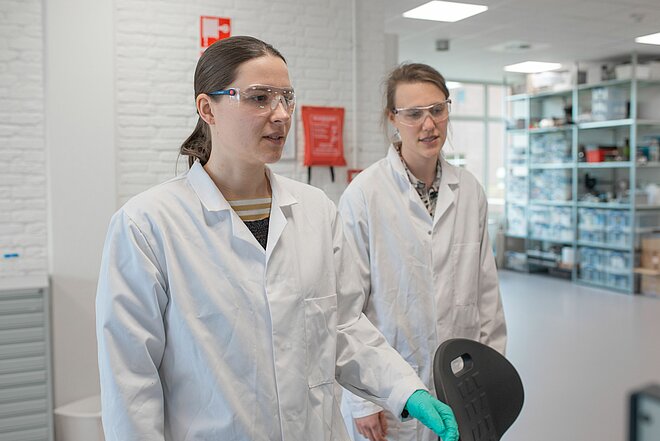 My challenge for the future is to bring our technology to industry. That means we will scale up our research tools to industrial tools. That will introduce a new range of technological challenges, all of which need to be solved. That's my job together with my colleagues from the RnD team.
Years ago we asked ourselves if we could print our nanoparticles on a contact lens to show off our print technology. In these early prototype stage it was still difficult to print with high precision. I did my best to align the contact lens and print head by hand and started the print. It turned out beautiful! I put the contact lens in a box, ran into our office and showed it to my colleagues who were also excited. This contact lens was then used a lot to demonstrate our print technology to visitors and it was featured on our website and promotional videos. Whenever I saw it, it always made me smile.