January 06, 2019
Andreas Schmidt-Ott, high-tech pioneer and co-founder of VSParticle announces the launch of the book "Spark Ablation, Building Blocks for Nanotechnology."
Spark ablation, the subject of the book, offers unprecedented flexibility regarding composition and size, opening unlimited access to novel sets of properties. These are emerging properties important in domains like energy conversion and storage, the development of durable artificial leaves converting CO2 and water into fuels and other forms of technologies involved in assuring a sustainable future. Other examples include making use of inorganic particles as catalysts, saving energy in the chemical industry, and avoiding or removing emissions that are threatening to health and climate.
---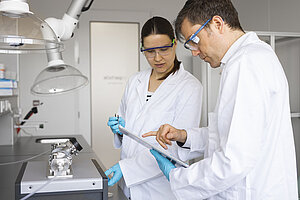 April 8, 2019
VSPARTICLE, today announced it has joined the Innovation test bed for development and production of nanomaterials for lightweight, embedded electronics (LEE BED). The program, spearheaded by the Danish Technological Institute (DTI), is funded by the EU's Horizon 2020 grant program.
---
November 26, 2018
VSPARTICLE releases low-cost technology to print sensors, finally enabling Smart Contact Lenses
JUST AS GOOGLE'S VERILY ANNOUNCES IT WILL STOP ITS SMART LENS DEVELOPMENT PROJECT, THE DUTCH STARTUP RELEASES A PROMISING SENSOR PRINTING TECHNOLOGY THAT CAN FINALLY BRING A SUCCESSFUL SMART CONTACT LENS TO MARKET.
---
19 January 2021
VSPARTICLE addresses the challenges by offering a fully automated nanomaterial fabrication process based purely on a physical process. Our approach is radically different from the state-of-the-art and it is based on a patented technology called Spark Ablation. The cornerstone of our technology is the VSP-G1- Nanoparticle Generator.
2 September 2019
Heterogeneous catalysis is at the nucleus of modern energy and chemical industries, a process in which a gas- or liquid-phase reaction is performed over a solid catalyst. Evidenced by revenue that reaches the trillions of dollars per year.To reduce our footprint on the earth and enter a new era where advances in technology are used to achieve this, conventional techniques processes that are typically more than fifty years old should be carefully reviewed.
By Maurits Boeije, Material Scientist
---
11 June 2019
How could we substitute critical metals that are needed for a renewable energy system?
---
20 March 2019
As an associate professor in the Department of Chemical Engineering at TU Delft, Smith has many interests, but he has chosen to turn his focus to slowing down climate change, primarily by enabling energy transition that is centered on renewables.
---
05 November 2018
Nanotech pioneer, ANDREAS SCHMIDT-OTT, discusses their EVOLUTION and the PRODUCTION of BUILDING BLOCKS FOR NANOTECHNOLOGY FROM THE GAS PHASE.
---
07 March 2019
Do you need to write a research proposal, but have no idea where to start?
---
07 March 2019
One of VSPARTICLE's biggest technology goals is to help make the world a more sustainable and environmentally friendly place.
---
25 March 2019
IT'S ALREADY BEING USED TO HELP RESTORE AND PRESERVE PAINTINGS, BUT THE SCIENCE CAN ALSO BE USED TO KEEP A MUSEUM'S STORES OF METALLIC ARTIFACTS FROM DECOMPOSING OVER TIME
---
Distinct ice patterns on solid surfaces with various wettabilities
---
24 January 2019
One Hundred and Fifty Years on, the Table Continues to Grow and Inspire, but the Real Opportunities Will Be Found at the nanoscale