The VSP-P1 Nanostructured Material Printer
Local deposition of nanoporous thin-films. 
2021: Commercially available
When connected to the output of the VSP-G1, the VSP-P1 enables you to print inorganic nanostructured materials with novel properties. The material is built-up of sub 20nm pure particles, and can be printed in patterns locally on any type of substrate.
You can print all (semi)conductive materials. This allows for the creation of particles of bimetallic particles, nano-alloys or materials that are immiscible in bulk state. Also non-metallic compounds can be made such as oxides and hydrides, by mixing small quantities of a non-inert gas in the carrier gas.
VSP-P1 Application Example
High throughput screening of electrocatalysts
Print different elemental compositions of NiFe and layer thicknesses in 1 run
First Customer Testimonial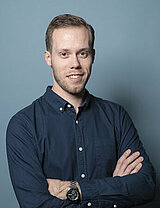 "The versatility and material flexibility of the nanomaterials printer allows us to print a wide range of nanomaterials on finished microelectronics devices. We are now able to decorate gas sensors and deposit on thin membranes and other fragile substrates without putting too much effort in finding a good recipe. Because it's so simple to test something new, we can think of new experiments often and perform them the next day!"
--PhD Candidate Joost van Ginkel - Department of Microelectronics TUDelft
NO HANDLING OF NANOPARTICLES
The VSP-P1 combines generation, combination and deposition of nanoparticles in one automated process, enabling you to print new nanoscale materials without handling nanoparticles. The complete system is operated through a secure and intuitive web interface that allows for automated material production.
BENEFITS OF ADDITIVE MANUFACTORING
The ability to locally deposit nanoporous thin films with a high surface-to-volume ratio in an additive manner greatly simplifies the manufacturing of materials for various applications (e.g. chemical, optical and biosensing, electro/photocatalysts and electrode materials (e.g. for micro-batteries or bio-electronics).
While VSPARTICLE is at the beginning of its technological roadmap, the challenge of scaling our technology is already being addressed.
Since January 2019 VSParticle is participating in the Horizon 2020 project: Innovation test bed for development and production of nanomaterials for lightweight embedded electronics (LEE BED).Within this project we scale up our print technology into a gas phase pilot line. The open access pilot line allows you to bring your application ideas and concepts to a pilot production.
For more information about the project and partners please go to the website.
When connected to the output of the VSP-G1, the VSP-P1 Nanostructured Material Printer enables you to print inorganic nanostructured materials with novel properties. The tool is expected to be commercially available in 2021. If you are interested in our tool and would like to know more about the possibilities we can provide for you, please contact our sales team and we will get back to you.